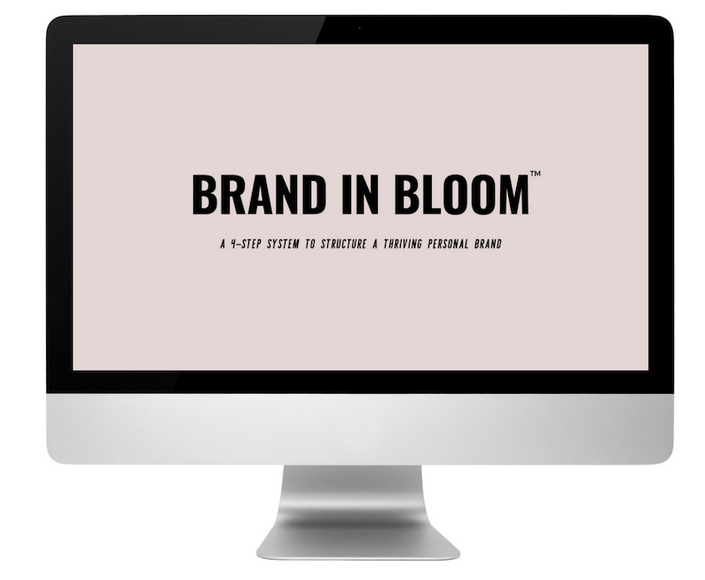 Brand in Bloom™
Grow your online visibility so you can profit from your passions + live life in full bloom
Enroll in Course
Ever wonder why it seems so easy for some people to get noticed online but for you it feels impossible?
Honestly, their secret is actually no-secret at all. Those people, the ones who have all the followers, likes and views? Well, they have them for a reason. They didn't just wake up one day, create social media profiles, upload a couple cute pictures, and VOILA make millions. No, no. Their visibility flourishes day in and day out because they show up everyday to share their value with the world as THEMSELVES, with their personal brands.

Yep! Cat's outta the bag! All those successful people you see on social media who are making it happen for themselves aren't just "lucky." The successful people online are the ones who've paid close attention to their personal brands and who continually, carefully, and consciously put in the effort to embrace and communicate themselves well.
That's all it takes.
It's true. Unfortunately, most people are going about personal branding all wrong. Very, very wrong.
They're making these major growth-stunting mistakes:


MISTAKE #1

:

They're in all the wrong places trying to grow a huge audience instead of the right audience



MISTAKE #2

:

Their visuals suck so they're not stopping the scroll


MISTAKE #3: They're focused too much on the "get" and not the "give"


MISTAKE #4: Their purpose is unclear so their messaging is too


MISTAKE #5: They have zero strategy so it masks their credibility, negatively affects their reputation, and holds them back big time
That's why I created The 4-E Formula™
- a PROVEN four-step system I designed to help entrepreneurs maximize and monetize their exposure using completely free techniques so they can avoid all those silly mistakes that stunt their growth. It took a decade of trial and error but, because of my experiences, I created a system that WORKS and you can have it.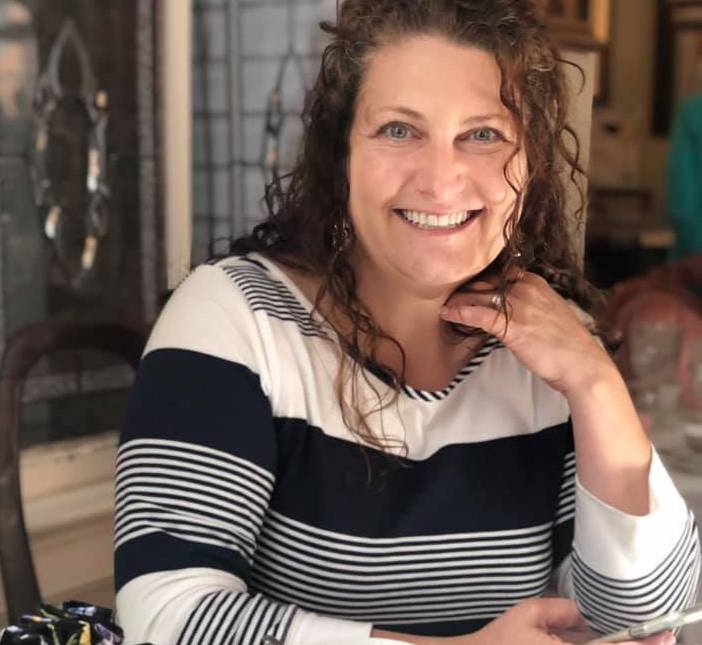 "I am so grateful for Liz's heartfelt help in growing my business. I no longer feel invisible on social media and I've been able to grow my visibility using her 4E-system!! Since implementing Liz's techniques I have recruited two new business partners & had 430% sales growth from March 2019 to May 2019 alone!!! Thank you, Liz, for inspiring me to GROW, BLOOM & DREAM BIGGER!!!"
- Lisa M., Self-Care with Lisa, Rodan + Fields
But, hold up. What exactly is a personal brand and how can yours make you more successful?

A personal brand is how you represent yourself as a person online and, with a strong, properly structured one using my system, you will have the power to grow your visibility, attract more customers and clients, and have the potential to make more money.


All because of the FREE techniques I teach inside this program.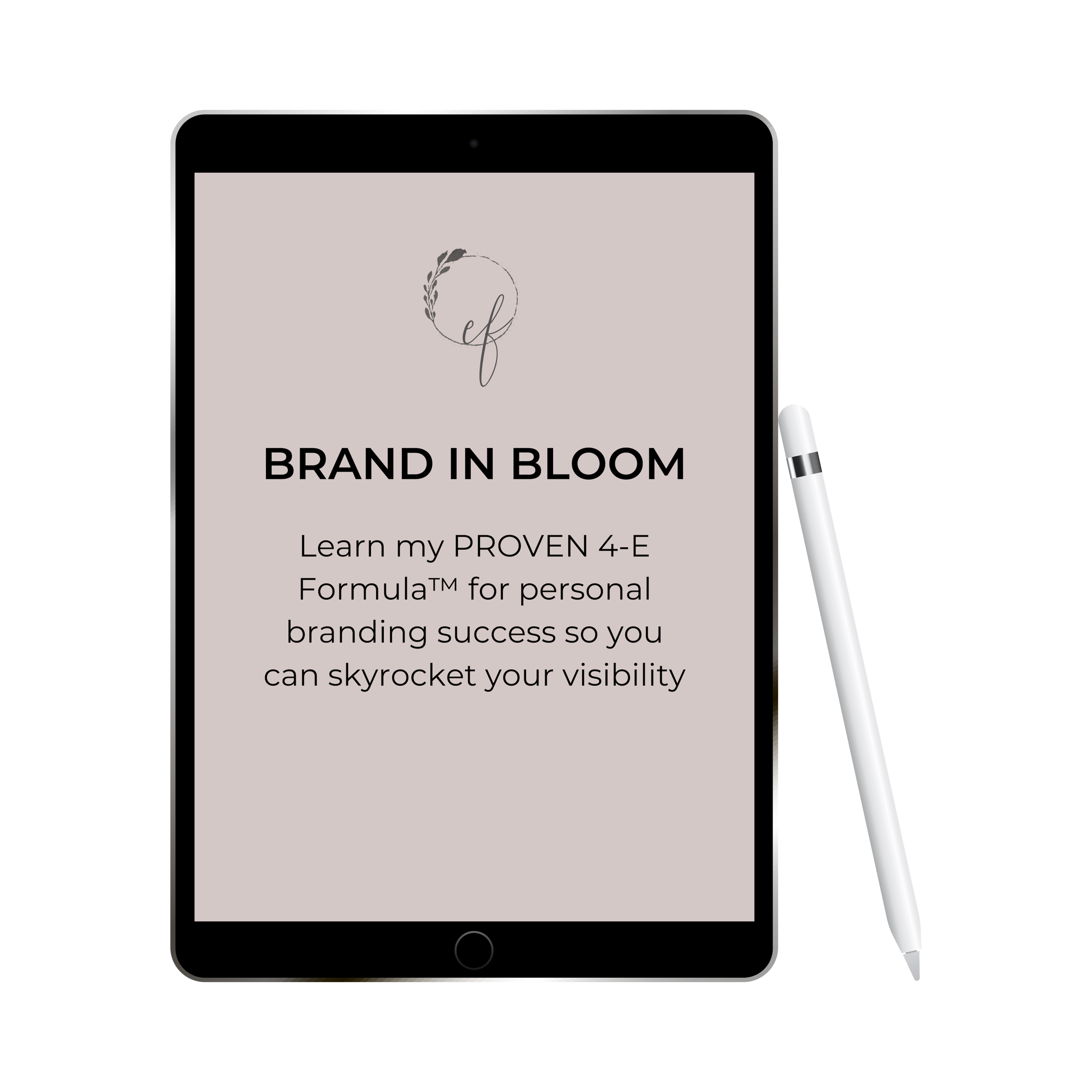 As a new entrepreneur or aspiring entrepreneur, I know how invisible you feel when you first try to make your mark on the world. There's alot going on out there! Let me tell you though, after 10 years in marketing (and just 3 of those as an entrepreneur), I've learned how to shake those feelings and be successful online by knowing how to use my personal brand to own my zone. With my system, you'll finally go from feeling invisible to invincible online
I'll show you exactly how using the proven 4-E Formula™ I developed during all those years working in the digital marketing and public relations industries with big companies, like The Republic of Tea and The PGA of America, small businesses, and solo entrepreneurs. A system that allows my clients and students, no matter where they are on their journey, to grow their visibility at scale and get noticed by media like The New York Times, Oprah Magazine, Today Show and many more.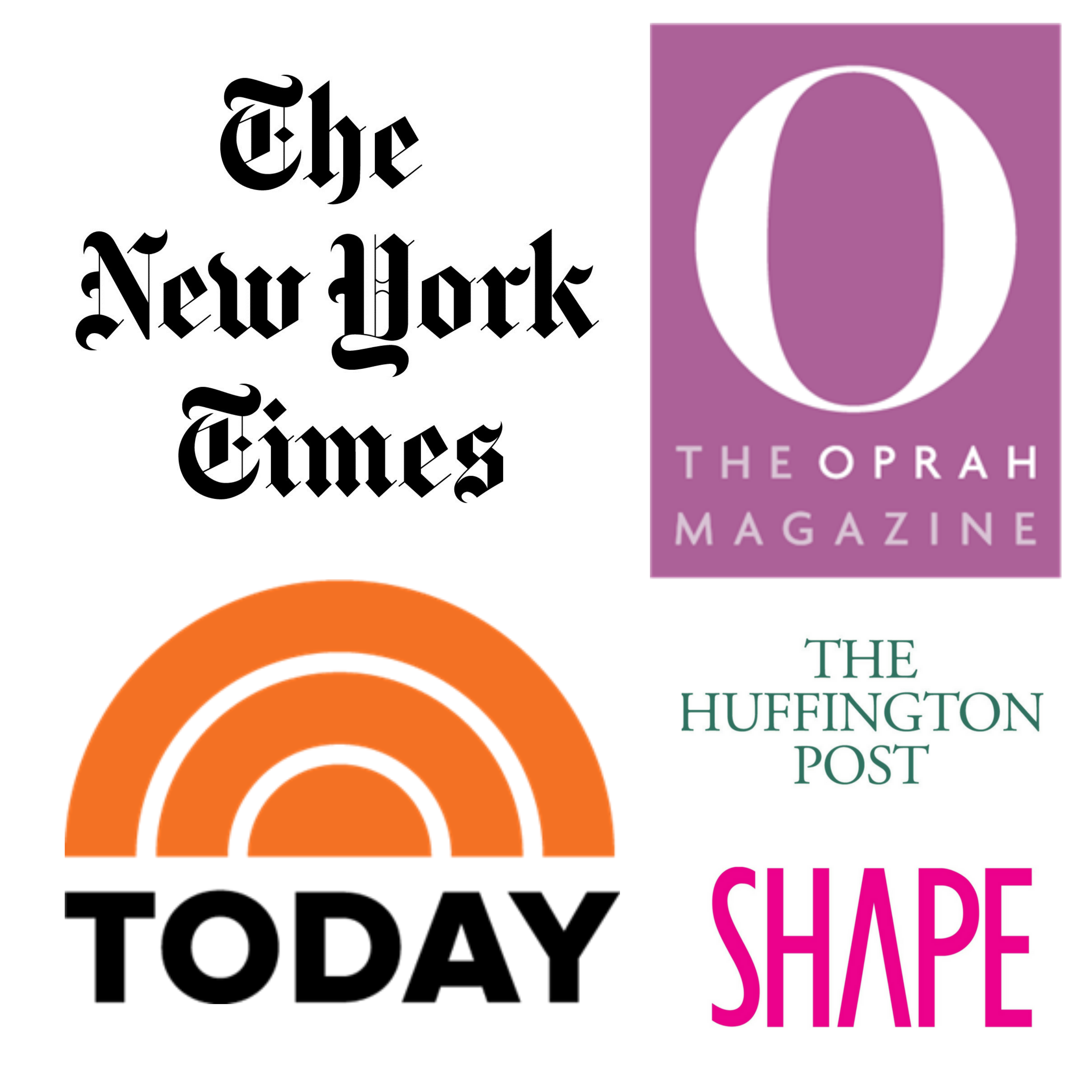 This course is for you if….
You want to amplify your authority and attract more people to you.

You want to learn how to be strategically unique in your space, on your own terms, in your own way and in a way that successfully grows your exposure without throwing money at advertising.

You want to make amazing progress without always having to hire help or reinvent the wheel every time you want to try something new.


You want to have a virtual presence that serves you longterm.
This course is NOT for you if…
You want to learn how to create logos, fonts, and style guides. This is not a graphic design course.

You want to take an auto-pilot approach to marketing. This is not for people who aim to be entirely hands-off.


You want a "swish and flick"⚡solution to making money fast. FYI The short-game is for suckers. This isn't about being practically perfect in every way so you get more followers that do nothing for you. It's about taking massively imperfect action that sets up your personal brand for continued success.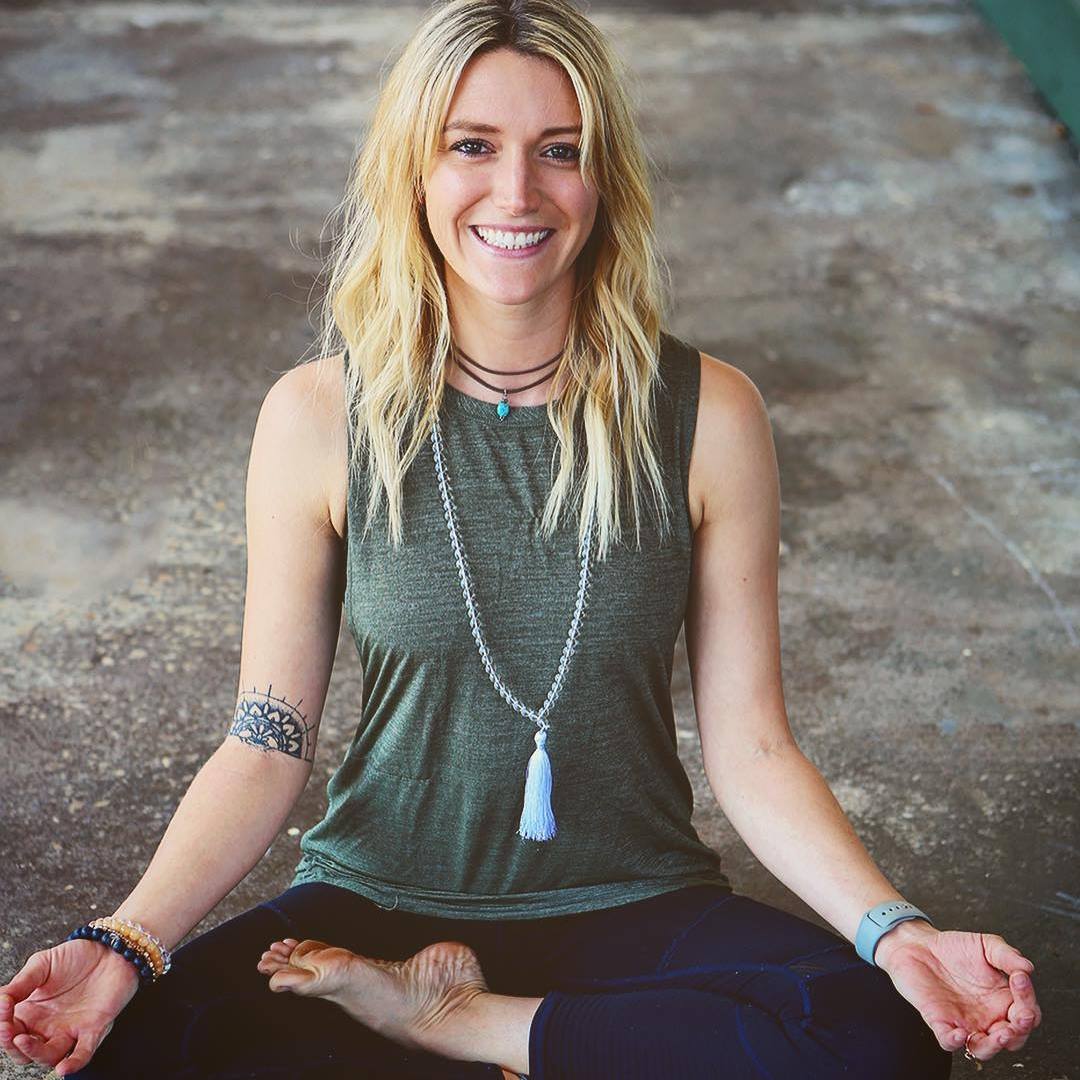 "Liz's powerful yet simple approach to personal branding has helped me find clarity in my business. I can now clearly communicate who I am, who I help and how. It has transformed and catapulted my business and helps me market in a manner that brings so much more value to the work that I do. Thank you!!!! I truly feel like my personal brand has bloomed!"
- Carli S., Founder, Wholistic Medicine Woman
Inside Brand in Bloom, you'll learn ALL of the FREE techniques you need to create a thriving brand for yourself that sells, serves you longterm, increases your visibility, and grows your bank account.
How's this possible?
I've experienced firsthand the success that comes from using these techniques and, to get there, I made all the mistakes in-between. Years of trial and error helped me determine a true formula for success. That's why this system is PROVEN to work for you just like it does for my clients and students.
This proven system is one that took me years to master, but I'll teach you how to master it in a matter of hours! You'll learn exactly what it takes to create a blossoming online presence and emerge feeling confident that you can rise above victim-mode, avoid the shame-game, eclipse the competition, spur constant growth, and truly own your zone, regardless of skill-set or level of experience in the digital world.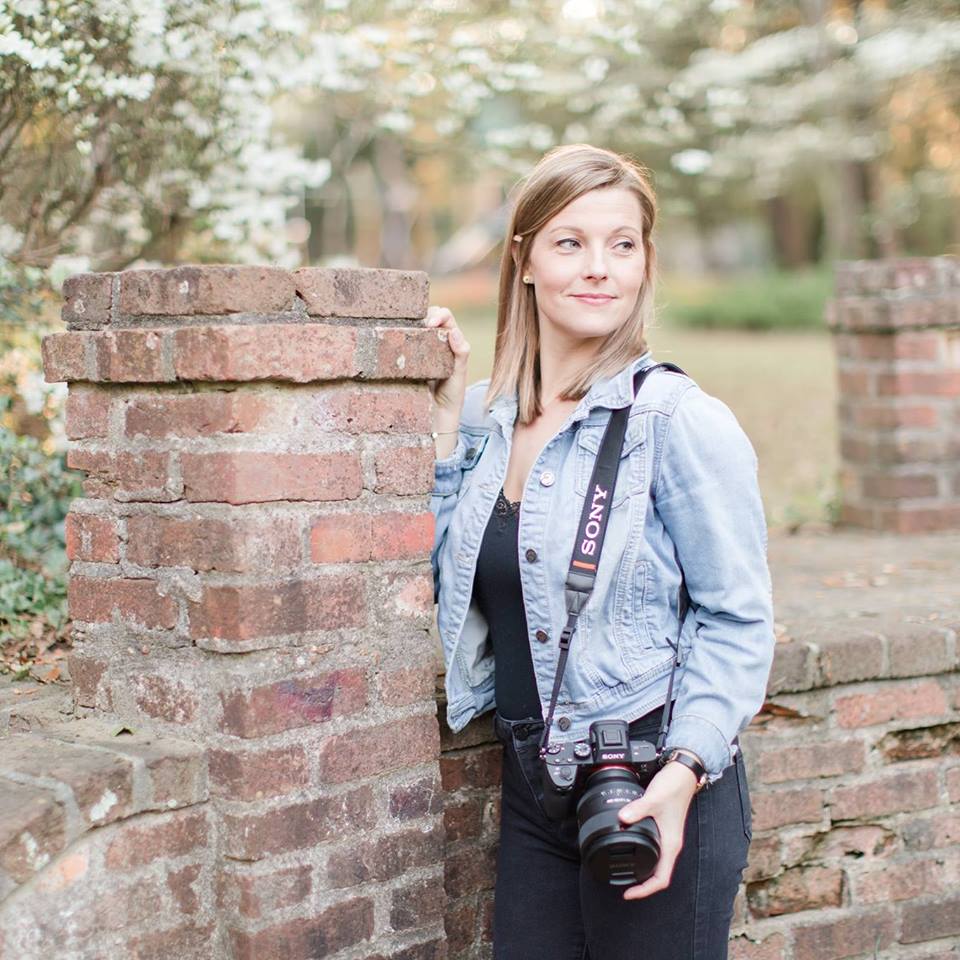 "Personable, professional and priceless! I made some of the simple changes Liz suggested and in less than a day I saw more followers and connections than I had seen in months. She's worth every penny."
- Hollie F., Wedding Videographer, Candid Light Films
What's included?
---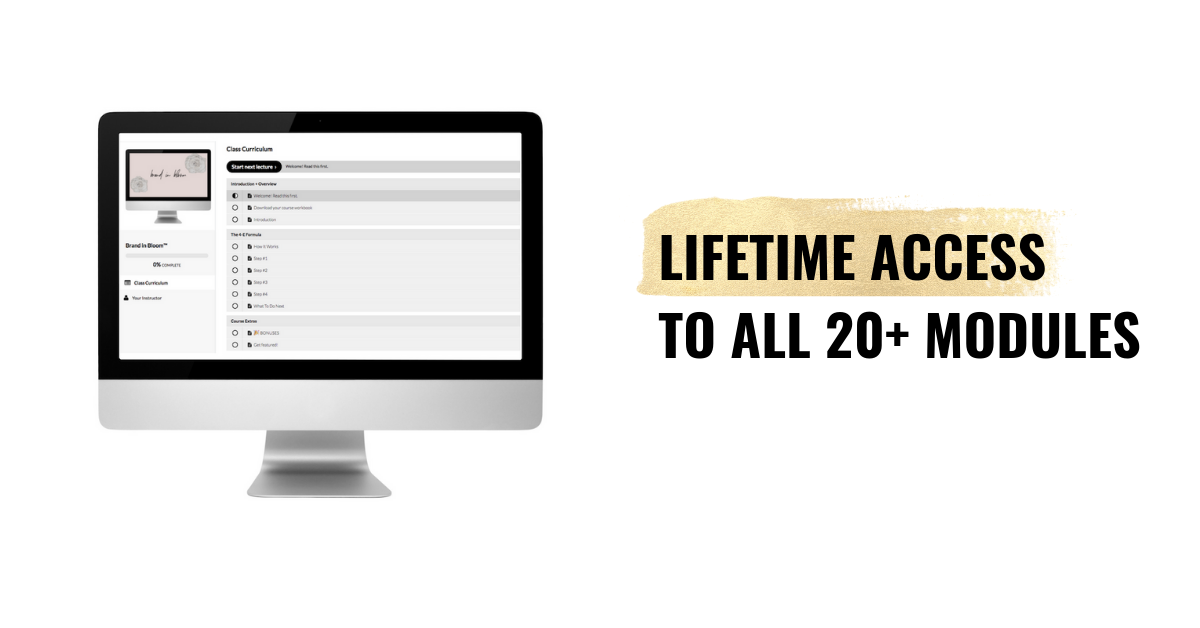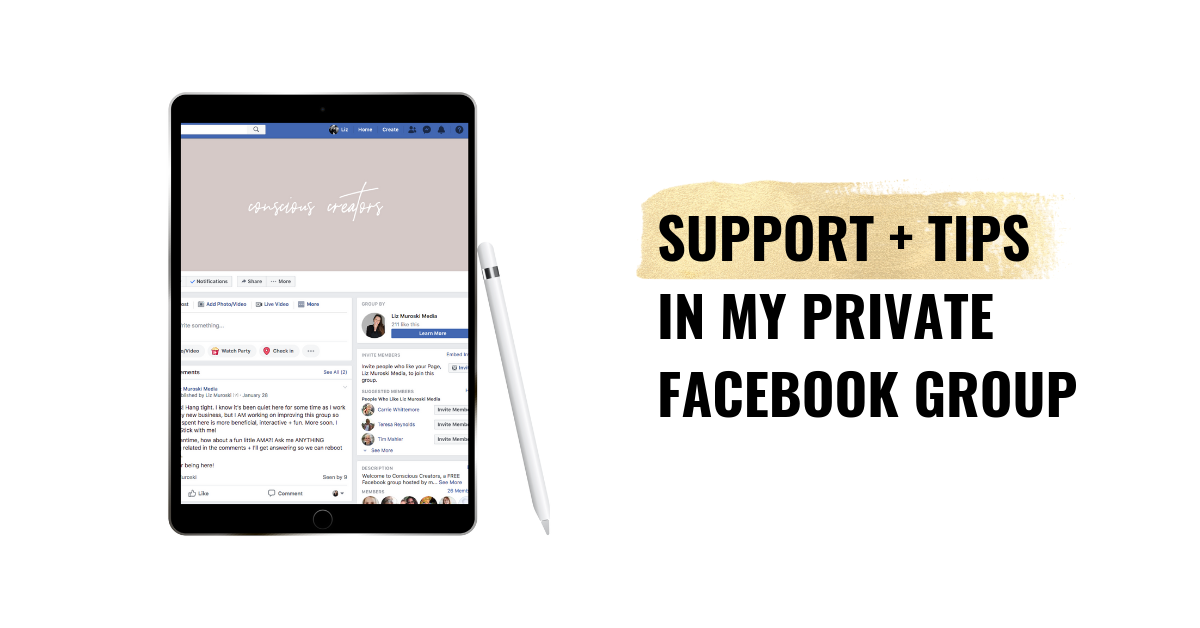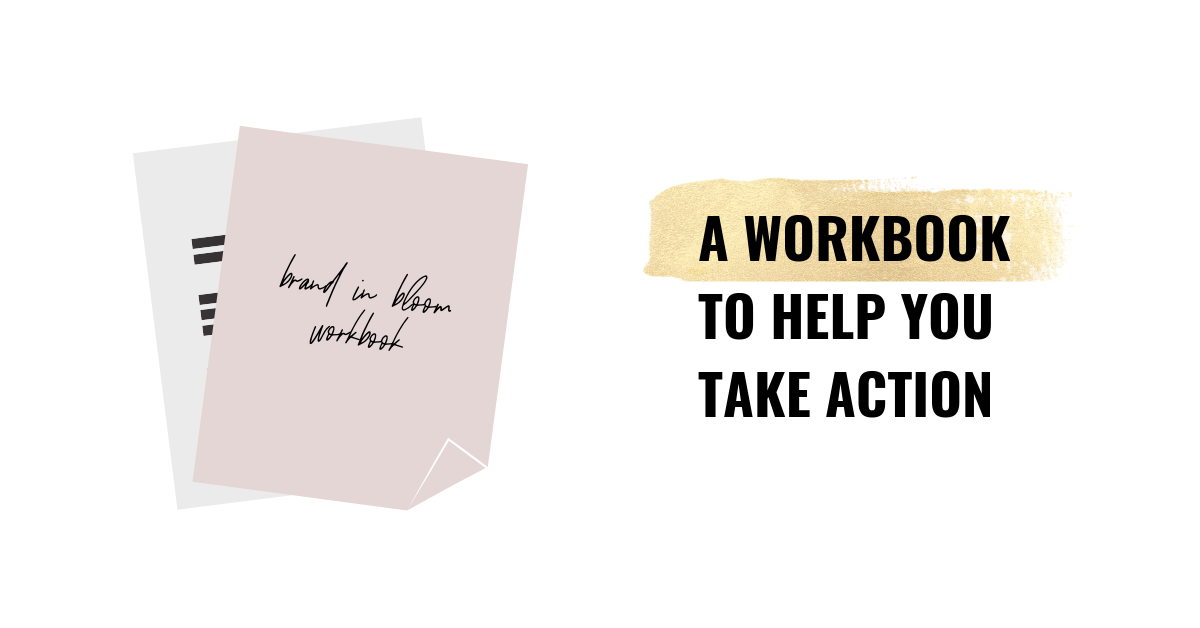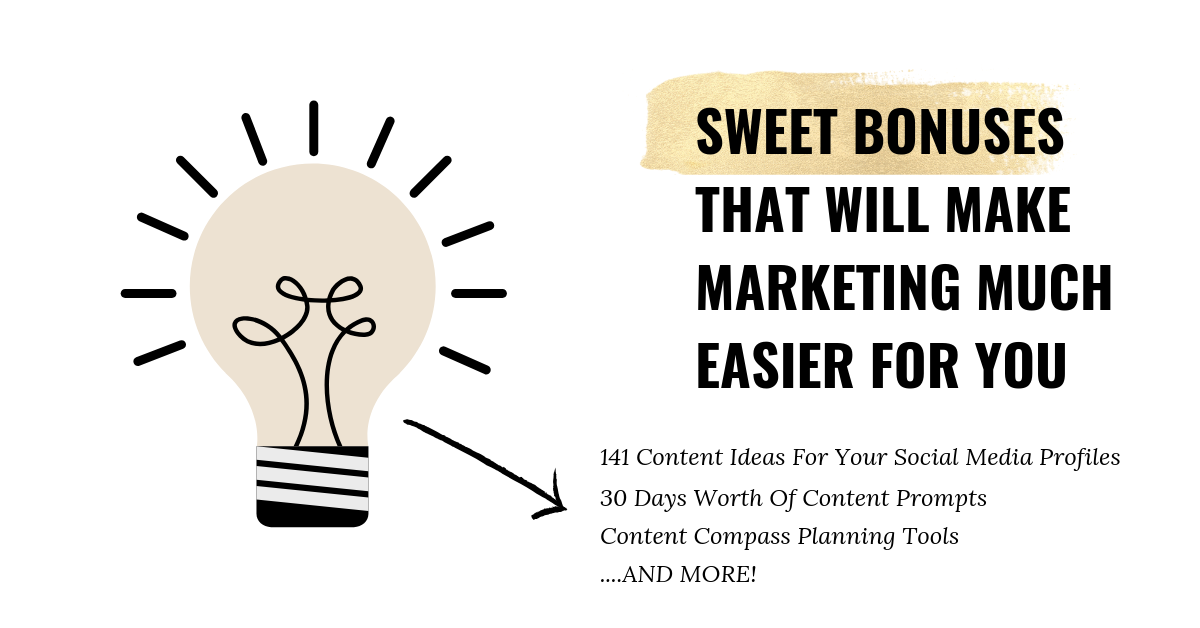 To be successful online, your personal brand needs structure.
As a new entrepreneur, you can attract A TON of the right people, amplify your authority, skyrocket your visibility, and make money doing it. All it takes is a flourishing personal brand!
When you create a personal brand that aligns with my unique system, you can:
Grow your exposure

without overextending yourself so you can easily reach more people, more often.


Attract the right audience

without overwhelm so you can obtain more loyal customers.


Make real progress

without feeling lost so you can effectively and efficiently grow your business.


Profit

from those passions of yours so you can live life in full bloom.

This course will help you increase your online visibility using FREE techniques that don't require you to spend money on advertising. That's hard to come by these days. You'll learn FREE techniques that I KNOW work in terms of maximizing and monetizing your exposure.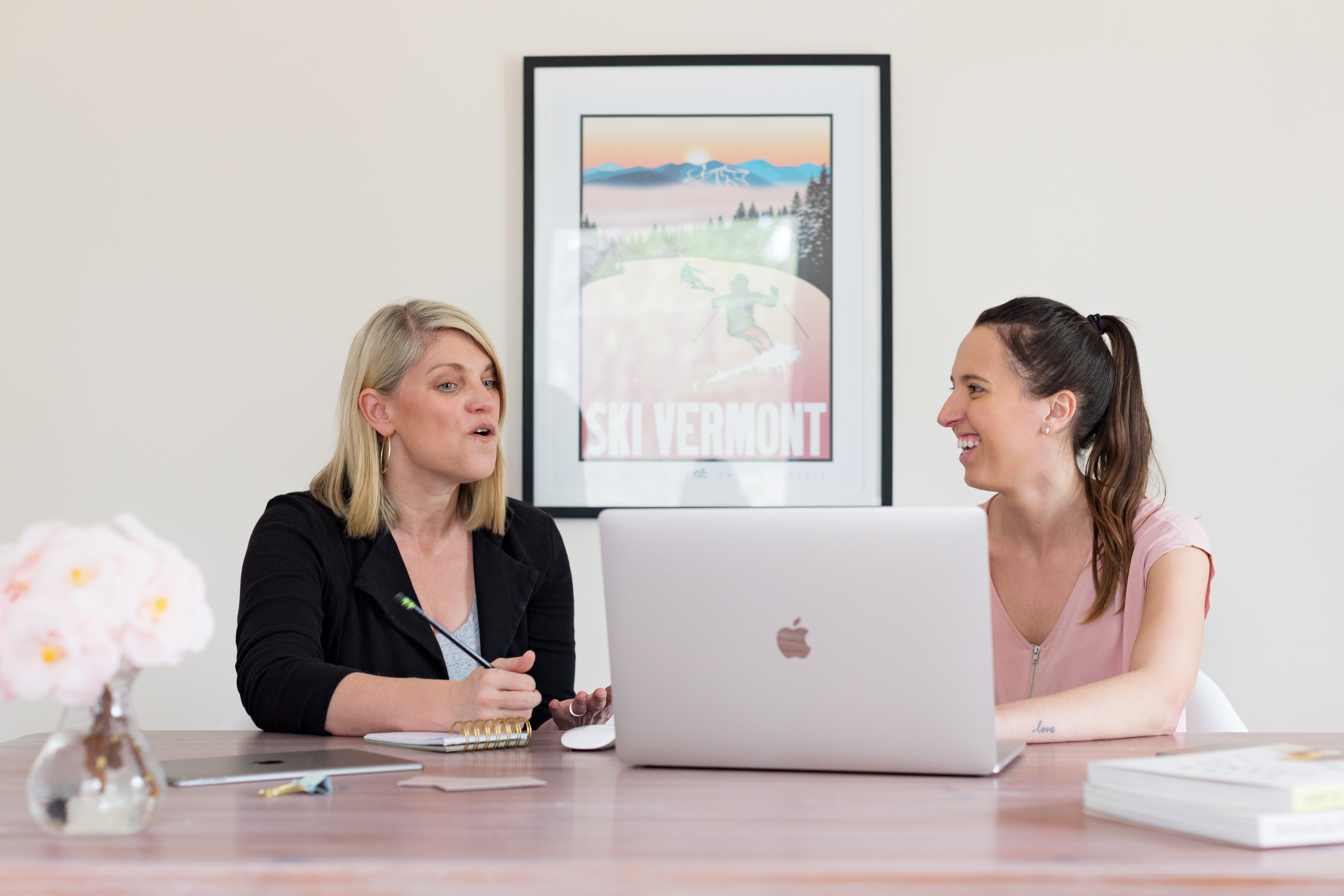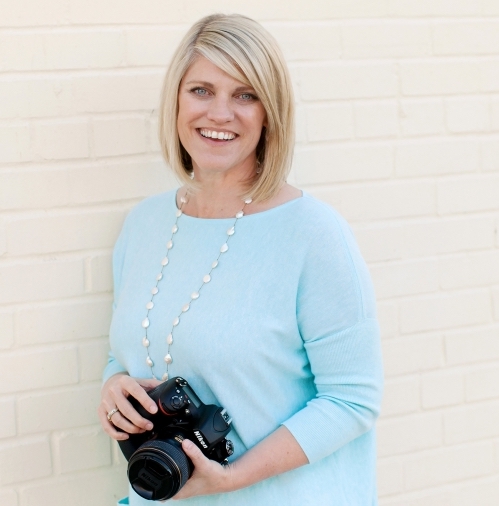 "Liz was one of the best decisions I have ever made for my small business. She laid out a very straight forward plan for me with different steps to help get me where I want to be. I never felt overwhelmed. Liz has had such a positive impact on my business."
- Natasha S., Photographer, NPS Photography
Your Instructor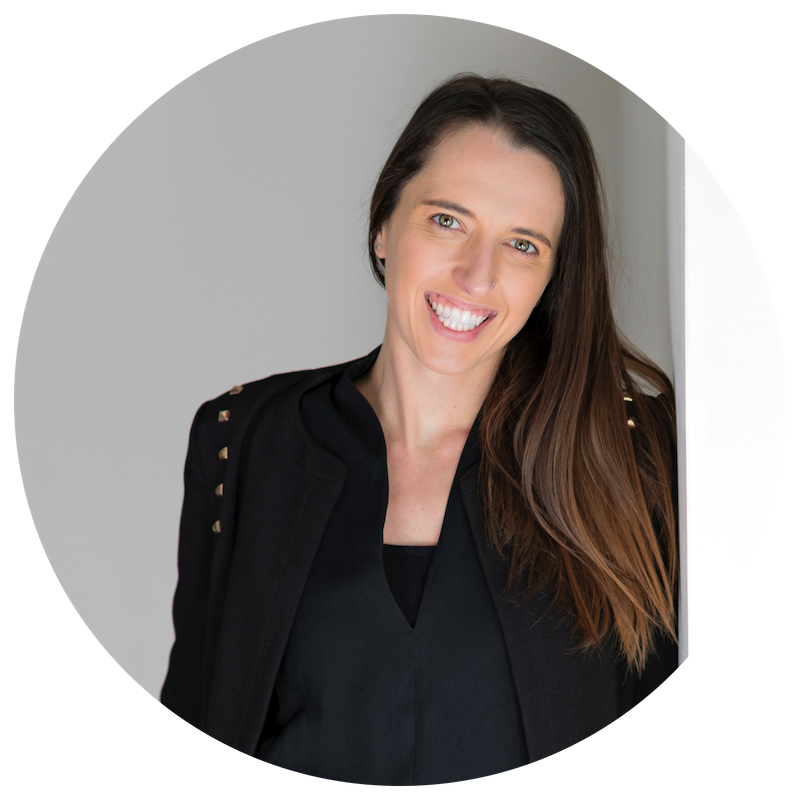 Liz, a personal branding and digital marketing strategist, helps entrepreneurs successfully tell their stories so they can profit from their passions and live life in full bloom. She does so using her proven framework The 4-E Formula™, a four-step system she designed to help entrepreneurs organically maximize and monetize their exposure, which she shares via one-on-one VIP coaching, training programs like her online course Brand in Bloom™ and group immersion workshops.
.
Throughout her decade long career, after representing both small businesses and multi-million dollar organizations like, The PGA of America, The Republic of Tea, and Walkers Shortbread, she's found that the key to great marketing is leaning on your imagination to tell your true story well and to listen, connect, and engage with others who do the same: to plant seeds of significance. Her work has been featured by The Rising Tide Society/Honeybook, Legacy Magazine, PGA Magazine, The Build Success Project Podcast, and CBS News, and she's had her clients featured by The New York Times, Oprah Magazine, the Today Show, and many more.
.
Her secret to success? Bloom where you're planted.
As seen in...

Frequently Asked Questions
How long do I have access to the course?
How does forever sound? I can tell you that Brand in Bloom™ won't always be offered at this price and will continually be revamped with new strategies, info, and advice. But you? You won't have to pay a dime for any of those updates. You get permanent access to the course and any extras I decide to throw in.
I'm worried I won't have time for this. Can I go at my own pace? How long does it take to complete?
Don't you worry! This course is entirely self-paced so you can move through it at a speed that suits you. Why? Because I want you to take your time to take action as you learn, to listen and to re-listen as many times as you need so the information really sticks. Everyone's journey through Brand in Bloom™ looks a little different, but that's the beauty of it. Since this is a go-at-your-own-pace course, duration will differ for everyone. The course in it's entirety is just over 2 hours of very in-depth material. However, I recommend you dedicate one week per lesson (so one week to complete each E of my 4-E Formula). Listen to the modules once or twice, spend time completing the workbook, and then take action. I love that you can pause during your busy weeks and revisit a lesson when you're feeling stuck.
Are you going to make me buy a bunch of expensive software?
Oh my gosh, no. I'm going to give you an extensive list of the best free AND paid tools so you can choose how much you want to invest in yourself right now. You can always upgrade your toolkit as you grow, which is why I felt the need to give you some awesome paid options, too!
Do you offer any refunds or guarantees?
You bet! If you spend 30 days going through this course and taking action, but still don't see results, I will gladly give you a refund.
I've seen your Brand in Bloom keynote. What about this course is different?
It's true. My 4-E Formula is too good to keep all to myself. That's why I've chosen to make it my signature keynote. Sharing the what and why are simple, but my talks don't take a deep dive into the HOW - the specific in-depth tips, tricks, and techniques you should actually implement to make this system work for you. This course is infinitely more thorough than my keynote, because it's an extension of it. It contains specific action items to help you proceed and succeed on your own personal branding journey.
Is this course right for me?
While this course is best suited for small business owners, entrepreneurs, aspiring entrepreneurs, non-entrepreneurs, and young professionals who are new to personal branding, it's more-so meant for people who CARE about breathing life into what they do. If you want to learn how to amplify your personal brand as a human being so you can make communicating what you do 10x easier, attract new customers/clients and maximize your success longterm using organic techniques that work, then this course is the right investment for you.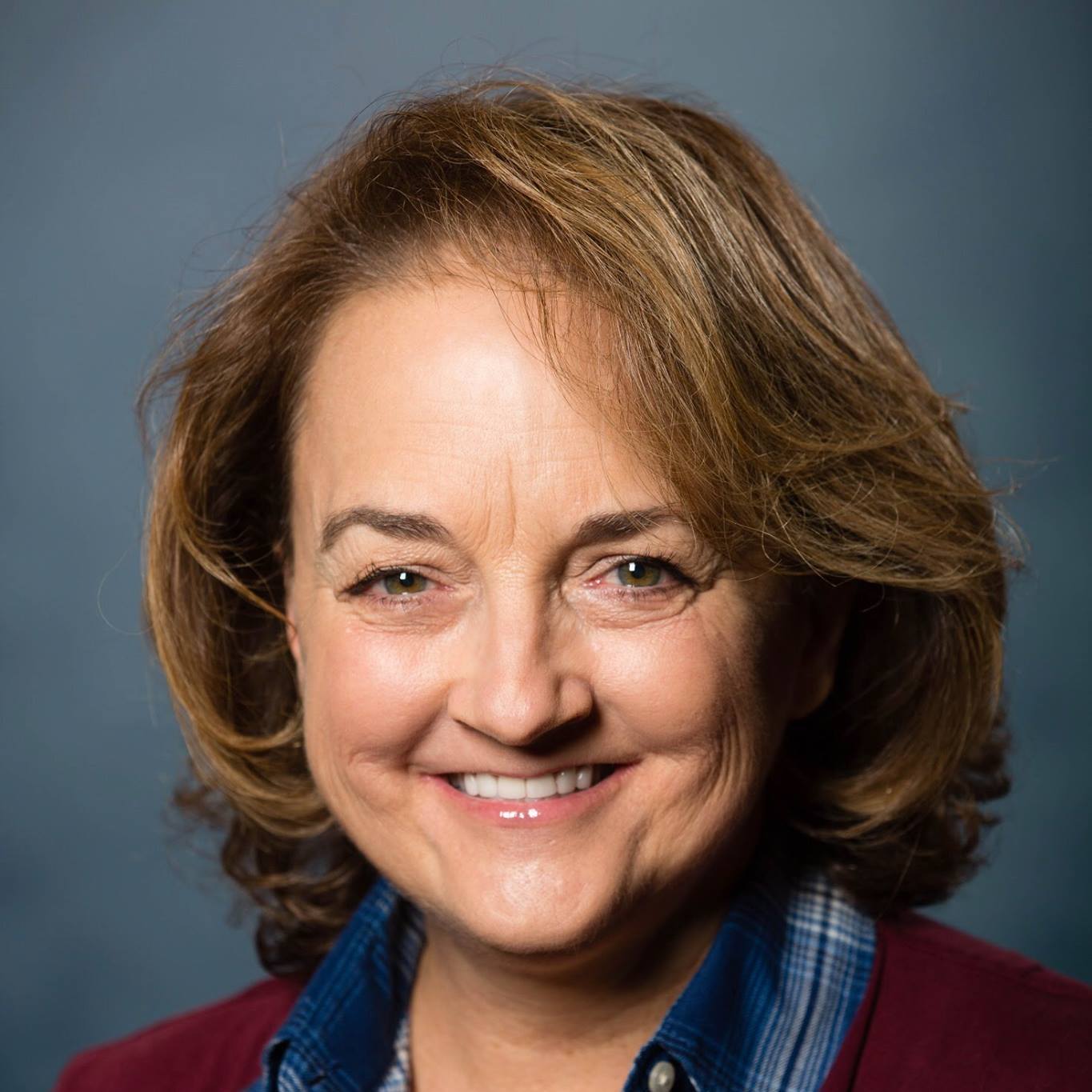 "Liz is a highly skilled brand strategist and a gifted teacher, presenter, and counselor for any size group. Bravo, Liz! "
- Teresa R., Director, Sandhills Community College Small Business Center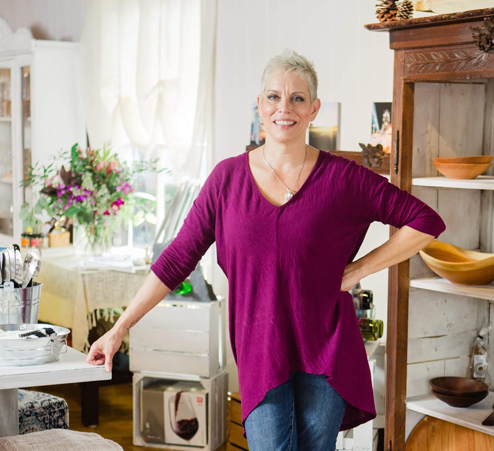 "Liz is AMAZING and a miracle worker!!! TAKE THE ADVICE OF this very entertaining PRO!!"
- Mickey R., Boutique Owner, Purple Thistle Kitchen + Co.
If you ever decide to grow your business, launch a new venture, start a blog, or sell a product or service, you're going to wish you had started today. This course will teach you how to build a brand around YOU and tell your story so your audience will be warm and excited to join your newest adventure! Trust me, your future self will thank you for taking that leap now because, the longer you put off learning, the more overwhelmed and behind you'll feel down the road.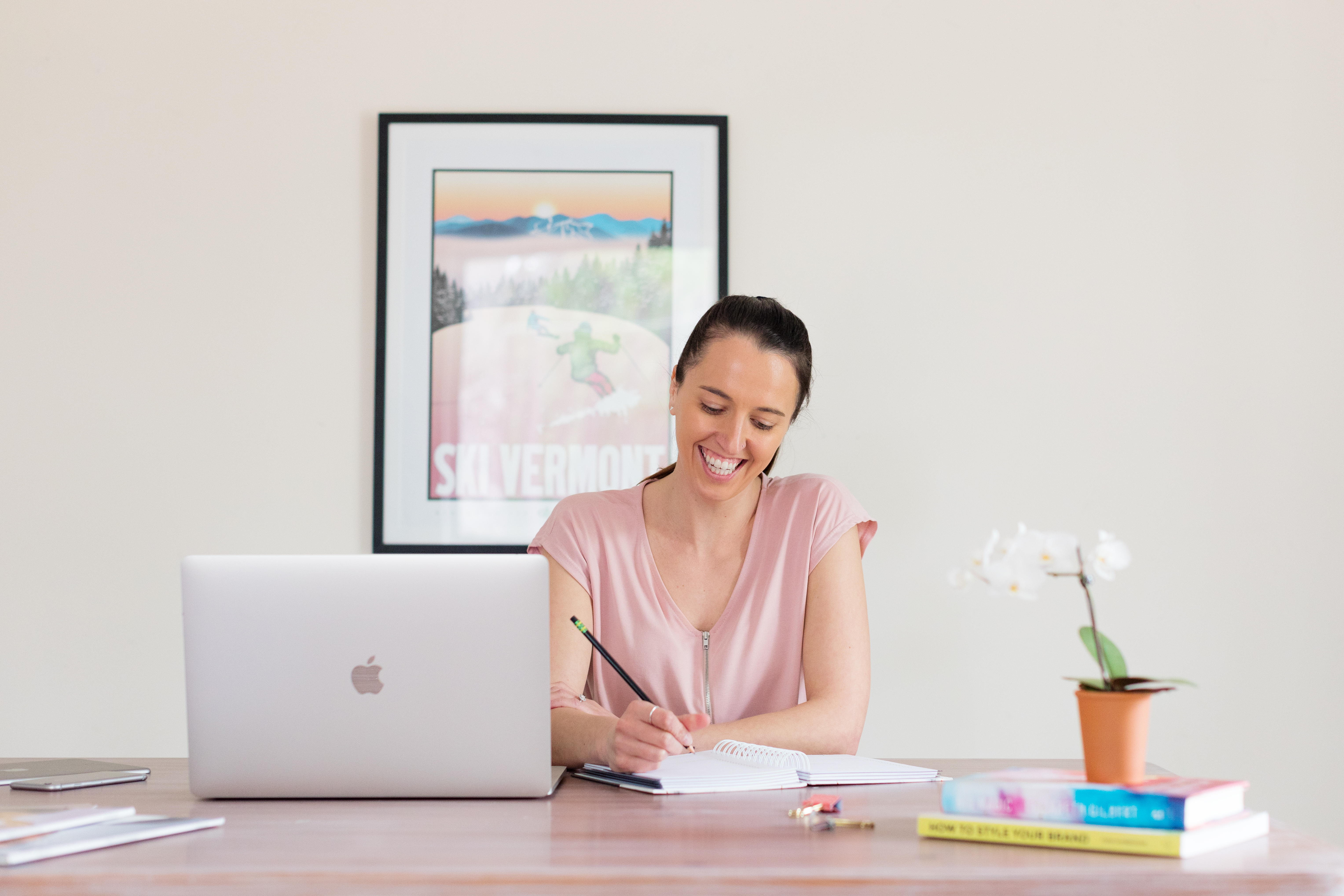 You've got two choices here...
You can keep trying to figure all of this stuff out on your own
OR...
You can steal my techniques and get results in a matter of weeks.
Where do you want to be a month or six months from now? Do you have an exact plan to get there?
The step-by-step system I teach inside Brand in Bloom will help you grow your visibility sooner than you thought possible.

Without it, you'll continue to jeopardize your success and growing your visibility will forever seem impossible.

With it, you'll feel confident that your online presence is drawing insane amounts of attention and skyrocketing your success every single day.
So, what will you choose?
Click the button below to get started for just $197!